Garland V. Stewart Middle Magnet NASA Explorer STEM School
Overview
PRINCIPAL/ADMINISTRATOR: Baretta Wilson

Phone: (813) 276-5691
Fax: (813) 276-5698

Student Hours: 8:30 AM to 3:25 PM

Uniforms: Mandatory Uniforms

Before School Program: No
After School Program: Yes
Soaring to STEM Success
Stewart Middle Magnet, near Downtown Tampa's Riverwalk, is a nationally recognized NASA Explorer School with a focus on Science, Technology, Engineering and Math (STEM). Through our Project Lead the Way (PLTW) curriculum, students choose from unique Electives like Aerospace and Engineering. Scholar Quest options lead to high school credit in Gaming, Robotics and other subjects. Stewart partners with NASA, NOAA and the U.S. Air Force to provide real-world learning opportunities. Exciting field trips make us a launch pad for learning with visits to Kennedy Space Center, Tampa Bay Watch and The Florida Aquarium. Stewart's Sixth Grade Structure helps students make a smooth transition into this exciting new learning environment. We develop independent learners and creative problem solvers—ready to address the challenges of the 21st century global community. Stewart routinely receives Magnet Schools of America's National Merit Award. Come soar to STEM success with our talented students and teachers.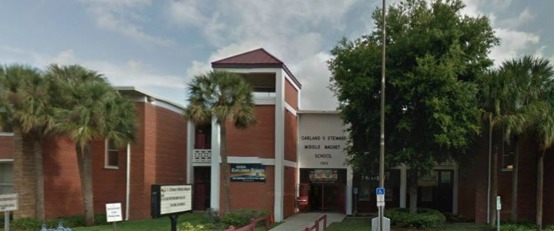 Stewart Middle Magnet School opened to African-American students as Blake High School in 1955. It was converted to Blake 7th Grade Center in the early 1970s as part of the district's court ordered desegration plan. With the opening of a new Blake High School in 1997, the original Blake High School building was renamed Stewart Middle School and 6th and 8th grade classes were added.

In the fall of 2000, Stewart Middle School was rededicated as Stewart Middle Magnet School. The school specializes in math, science and technology classes, with a special emphasis on aerospace and aviation. In 2003, Stewart was selected as one of the first 50 NASA Explorer Schools in the United States.

Points of Pride

Certified National Magnet School

Magnet Schools of America National Merit Award (for over 8 years)

Project Lead The Way -www.pltw.org

Featuring: "Flight & Space" - Aersopace, Environmental Science, "Design & Modeling" Engineering, "Medical Detectives", & Robotics

John Glenn Top Gun Academy- Honor Society for students with an interest in Aerospace and Aeronautics.

Math Academy for gifted/talented Mathematicians

Math League and Math Counts Competition Teams

More Geometry students than any other middle school

HS Credit courses in Science, Math, Engineering, Aerospace Gaming, Robotics, & Spanish

STEAM Clubs Summer HOST STEM Program

National Award Winning Maker Space
Garland V. Stewart was born on January 12, 1909 to Frank and Ethel Stewart. He graduated from Morehouse College in 1932. In 1935 Mr. Stewart married Beatrice Hill and they had two sons, Delano, and Frank. Throughout his life, Mr. Stewart endeavored to assist others, and he mentored such nationally known figures as Jesse McClary, and Alcee Hastings. Locally, he fostered the educational endeavors of numerous politically and socially prominent African Americans.

Mr. Stewart served the children of Hillsborough County with distinction. He worked as principal of Robles Elementary, Dobyville, Dunbar Elementary, Cleveland Elementary, and Middleton High School before becoming the first African-American assistant superintendent in our county. Mr. Stewart was the founder of the Pi Iota Chapter of the Omega Psi Phi Fraternity. He was honored by the Boy Scouts of America with a "Silver Eagle" award. Mr. Stewart passed away in 1996.