Return to Headlines
Uniform Policy - Reglamento de Uniformes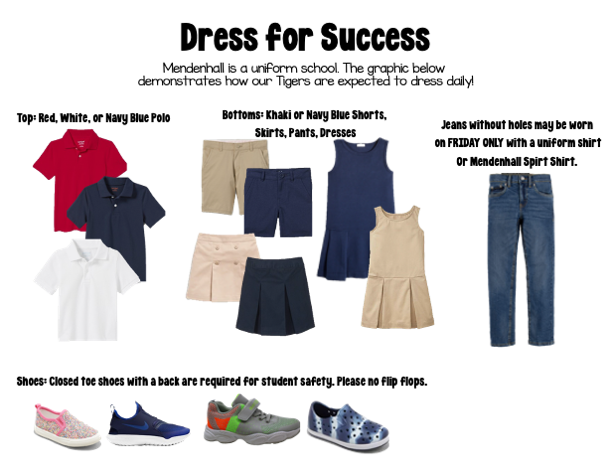 UNIFORM POLICY-English
The parents and staff of Mendenhall have agreed that we are to have a mandatory school uniform policy. Research indicates that school uniform policies can promote school safety, improve discipline, and enhance the learning environment. The school uniform consists of the following:
white, navy blue, or red shirt with collar (knit shirt or blouse)
navy blue or khaki bottoms (shorts, pants, skirts, skorts, jumpers)- no denim
Shoes must be suitable for outdoor physical education classes (closed toe)
Fridays – spirit t-shirt may be worn with jeans
Please be sure to label your child's clothing (coats, sweaters, etc.) so that it will be easily identified and returned if it is misplaced. After a reasonable time, unclaimed clothing or articles will be sent to a local charity.
All students are expected to comply with the uniform policy. Consequences for students who do not comply within a nine-week grading period are as follows:
First Offense: Parents will receive a warning letter of non-compliance with the uniform policy.
Second Offense: Parents will receive a call from the student's teacher and a second letter will be sent.
Third Offense: Student will be sent to the office and parent will be called. Either a uniform will need to be brought in for the student, or the student will receive a uniform on loan if one is available.
Fourth Offense: The parent will be called by an administrator and a conference will be requested with the parent.
If you need a waiver from the mandatory uniform policy you must make an appointment with administration. The entire Mendenhall Staff appreciates your support of our uniform program.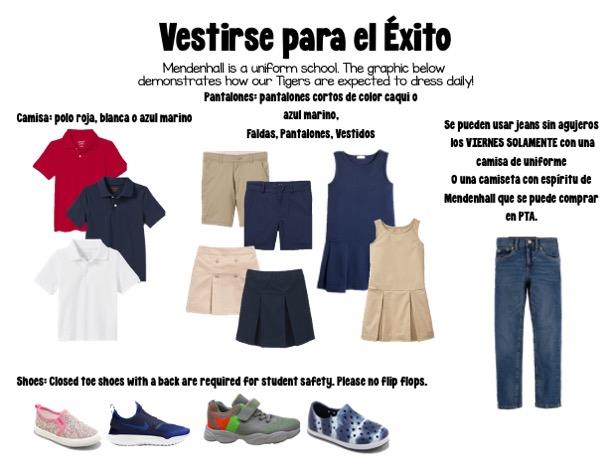 REGLAMENTO DE UNIFORMES - Spanish
Los padres y el personal de Mendenhall han acordado implementar el uso de uniformes escolares obligatorios. Ha sido probado que los estudiantes que usan uniformes escolares ayudan a promover la seguridad escolar, mejorar la disciplina y a mejorar el ambiente de aprendizaje. Nuestro uniforme escolar consiste en lo siguiente:
Camisa (tipo polo) blanca, azul marino o rojo con cuello (camisa o blusa de punto)
Pantalones, faldas, jumperes o shorts de color caqui o azul marino – (no de Mezclilla)
Zapatos deben ser cerrados y adecuados para las clases de educación física
Los viernes – La camiseta de la escuela puede ser usada con pantalones de mezclilla para contribuir al orgullo escolar.
Por favor asegúrese de ponerle el nombre de sus hijos a la ropa (abrigos, suéteres, etc.) para poder identificarlos y devolvérselos con facilidad. Después de un tiempo razonable, los artículos de ropa que no sean reclamados serán donados a una agencia de caridad.
Todos los estudiantes deben cumplir con el reglamento establecido para el uso del uniforme escolar. A continuación, vera la lista de consecuencias establecidas por incumplimiento del reglamento la cual se aplicara cada periodo de calificaciones (9 semanas):
Primera Infracción: Los padres recibirán una carta de advertencia por incumplimiento con el reglamento de uniformes.
Segunda Infracción: Los padres recibirán una llamada del maestro del estudiante y se les enviará una segunda carta
Tercera infracción: El estudiante será enviado a la oficina y se llamará a los padres. Usted deberá de enviar un uniforme a la escuela para el estudiante o si es posible le prestaremos uno.
Cuarta Infracción: Los padres serán llamados y una conferencia con un administrador será solicitada.
Si usted necesita una exención del programa de uniforme obligatorio debe hacer una cita con la administración. El personal de Mendenhall agradece su apoyo a nuestro programa de uniforme.