Marching Knights Information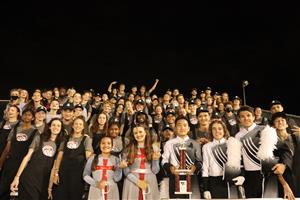 Become a Marching Knight
Visit www.robinsonknightsband.com for more information.
Who can join band at RHS?
Any RHS student may find a role in the Marching Knights. The 125 members of the Marching Band must be enrolled in a band, orchestra, keyboard, or eurhythmics class.
Drumline members are selected during auditions in May. All other percussionists become members of the Front-Ensemble.
MARCHING BAND PERFORMANCES
Football Games
Pep Rallies
Marching Band Competitions
MPA (Music Assessment)