STEM at Home Challenge - October Challenge
Dear Families,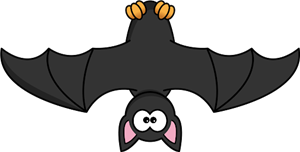 Wow! We saw some amazing school buses during our September challenge. We will now be starting our October STEM at home challenge! Our October challenge will be to design a model of a bat, that can be hung upside down without falling. There will be a couple different categories that will be judged, and there will be prizes awarded! You will also get a treat for reading about bats and answering the questions.
What will need to be submitted?
The bat
The design challenge packet with the blueprint, materials list and questions filled out.
*Bonus: the comprehension questions completed about the bridge.
The project is due to your homeroom teacher by October 29.
If you have any questions, please feel free to email Ms. Crane, amanda.crane@hcps.net
We hope to see you all participate this month!
~~~~~~~~~~~~~~~~~~~~~~~~~~~~~~~~~~~~~~~~~~~~