Return to Headlines
Senior Class of 2021 Info & Dates
Class of 2021 Senior Information Sheet
Senior Class Sponsor: Deena Hendrix room 415
Follow the senior class for updates on Instagram: @crestclassof2021
---
Senior Yearbooks and to purchase an advertising section:
yearbookordercenter.com
School code 10629
Scholarship Bulletin:
Click here to download the most recent Scholarship opportunities.
Senior Banner's
Deadline has passed.
Click here to download the order form.
Senior Pictures: Schedule your Senior Portrait Sessions through Cady Studios cady.com/schedule
Senior Parking Spots: We will be selling senior parking spots during the week of January 5-8, 2021. If someone parks in your spot, please tell an AP1. DO NOT TAKE THINGS INTO YOUR OWN HANDS!!
National Honor Society: Returning NHS members must turn in hours by December 4, 2020. Dues are due. Please follow the SCHS NHS Instagram Account or email Mrs. Lauren Leto for more info.
Homecoming Info: The District will NOT allow dances at this time. We will still do a spirit week spearheaded by Student Government the week of October 26-30th. We will still have HOCO Court and crown the HOCO King and Queen at the HOCO football game on October 30th. More information to come from SGA and Mrs. Moody.
Senior Panoramic: Thurday, 3/11/21 at 8:40am in the SCHS gym. Please wear black, masks & this is open to eLearner's too!
Senior Class Merch: Senior class t-shirts ($15.00), crew shirts ($25.00) and bucket hats ($20.00) will go on sale October 26-November 6th. Look for more info on IG
Senior Notables: Senior Notable nominations will take place at the beginning of January 2021. We are working on how to set up nominations and voting.
Grad Bash: Cancelled by Universal
Senior Prom: Cancelled by our School District
Senior's Only pep rally - Friday, April 23rd during 7th period at the football stadium. King & Queen will be crowned as well as the announcment of Notable winners. No parents or outside guests allowed.
Cap and Gown /Announcement Meeting. This will take place in video format. Please click the link to view the video: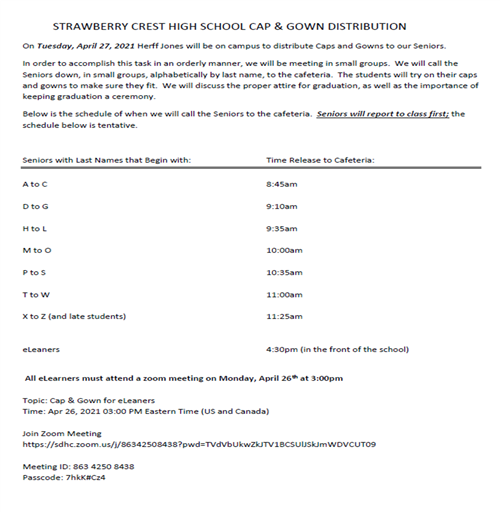 eLearner's be sure to be on the Zoom Meeting:
Monday, April 26th at 3pm

Join Zoom Meeting: https://sdhc.zoom.us/j/86342508438?pwd=TVdVbUkwZkJTV1BCSUlJSkJmWDVCUT09

Meeting ID: 863 4250 8438

Passcode: 7hkK#Cz4
If you have not ordered your cap & gown please do it NOW at https://highschool.herffjones.com/secom/home
IB Seniors Last Academic Day - Wedneday, April 28th
Traditional Honor Grad Ceremony - Thursday, April 29th in the SCHS Auditorium at 5pm
IB Grad Banquet - TBA
AP Exams - May 3-14
Seniors Last Academic Day - Tuesday, May 18th
Senior exams - only for Seniors with a D & F in the 2nd semester. Exam days will be on 5/19 & 20
Senior Awards Night - Thursday, May 20 by invitation or possibly video.
Senior Send-Off/ Last Day - Friday May 21st at 9am. Free Chick-Fila breakfast, gifts, slideshow & water slides on the football field. Female students, no swimsuits without clothing over it. All students must wear their shirts at all times.
Graduation Rehearsal - Saturday, May 22 at the Florida Strawberry Festival Grimes building. Time has not been announcmed. Rehearsal is REQUIRED in order to walk at graduation. Graduation tickets will be issued at rehearsal.
Graduation date TENTATIVELY - Thursday, May 27th at 8pm. Students must report by 7pm. Per SDHS policy, each Senior will receive 2 tickets to graduation. Your tickets will be issued to you at rehearsal.
Have a great school year! Remember you are the LEADERS!!! Please show off your leadership qualities by being in class on time, dressing appropriately and being positive!!!