Engaging the Community, Preparing Students for Life Hundreds of Stakeholders

Hundreds of Stakeholders. One Goal. Partners in Education.
Imagine what is possible when our community joins together to support our teachers and our schools…when we speak with one voice about what is needed to ensure student success.

Partners in Education is a new community engagement initiative in Hillsborough County. Our goal is to engage a coalition of like-minded businesses, organizations and stakeholders who support the bold changes taking place in our District. These transformative changes focus on how and what we teach, all designed to help students achieve while helping teachers excel.

The District cannot do it alone. We need the active support and involvement of our community. We all benefit when our students are successful, and we can accomplish more when we work together.
Make a Lasting Impact for Hillsborough County Students
By becoming a Partner in Education, you are not only supporting the work of Hillsborough County Public Schools, but you are publicly declaring that every child deserves a highly effective teacher in their classroom. You are affirming that by working together, we can create a community where our teachers are supported, ultimately graduating more students ready for college or a career. Your involvement and public support will help us accomplish more.

To become a Partner in Education:

You must be a business or organization with an interest in Hillsborough County Public Schools. You do not need to be in the Tampa Bay area, though many will be.
There is no fee or sponsorship expected of Partners. To join the growing Partner list, you just need to opt in.
Agree to spread the word about the work that has been done and the work that remains. (We'll help.)

As a Partner, your organization will:

Gain public recognition as being a supporter of Hillsborough County Public Schools.
Be included in a list of Partners on our new program website.
Receive a special Partners in Education logo that can be prominently displayed on your website and on printed materials (with some limitations).
Be kept up to date on the efforts taking place in the District. You'll get our quarterly e-zine as well as periodic email updates. We'll also hold special, members-only events throughout the year.
Share your perspectives and feedback—your insights will enrich our understanding of community needs and help us make our schools and students more successful.
Founding Partners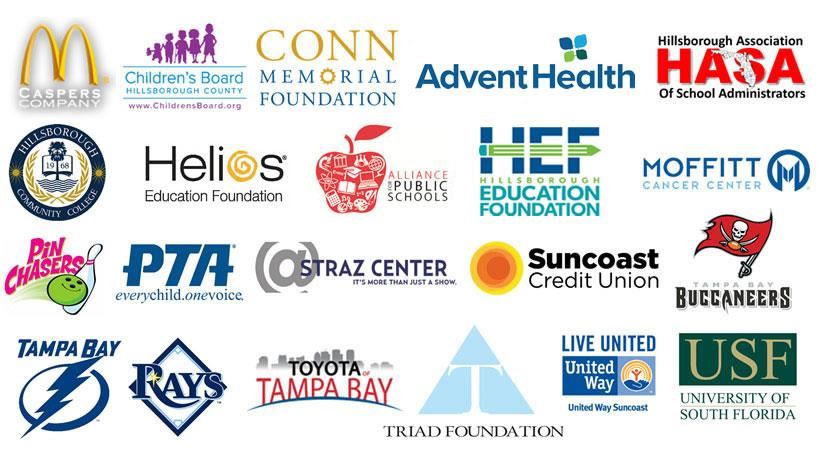 Become a Partner in Education
If you would like to become a Partner in Education, please contact AnnMarie Courtney at AnnMarie.Courtney@hcps.net or (813) 272-4602.